You may ask why I wanted to travel to Algeria. Because I'm a big fan of searching for cheap flight tickets on the Internet, I think the answer is obvious. One day, cheap flights to Algeria appeared online. I just wandered into a travel blog forum, where I came across a bunch of guys who were looking for a fourth for their team for their journey. I didn't hesitate long before joining them. Later that day we bought tickets. It was March 2015, and some new stories had just emerged in the newspapers – the kidnapping of a Czech man in Libya and the executions of captives in Syria. Everyone around me told me I was a madman and that they would see me on TV in an orange jumpsuit. Even the State Department discouraged from taking any trips to Algeria. In this Algeria Travel Guide, you will learn how to plan the trip and what places to visit in Algeria including tips with an itinerary.
Before traveling to Algeria – how to plan everything
Algeria is the largest country in Africa, situated in the north of the continent. Four fifths of the country are covered by the Sahara Desert. The country boasts beautiful beaches, mosques and Roman monuments. Algeria is still undiscovered by mass tourism – which was the main draw for me
When I started preparing for the journey, I encountered the first problem. This was, surprisingly, the language barrier. Most information was available only in French or Arabic. I had to go through a crash course in French with Google Translate, then I was able to rent a car.
To obtain visas, it was necessary, in addition to the obligatory form-filling and photographs, to provide a personal invitation or hotel booking. It is ideal to give a full travel itinerary to the embassy.
So, we decided to provide as much information as possible. Here, I ran into another problem – almost no hotels can be booked online. That gave me plenty of difficulty because I had to adjust our itinerary to be suitable for presentation at the embassy. I made bookings for a few hotels and cancelled these reservations later, since we wanted to look for accommodation on the spot according to our actual situation. When I finally had all these documents together, including the fee of CZK 1800 (~USD 70), I gave it to the embassy. The lady at the counter was a little surprised that I wanted a tourist visa nearly two months before departure, because it was apparently plenty of time to process. Although my application was complete and correct, I really had to wait for a visa. During those two months, I had to press them several times over the phone, and the passport and visa finally arrived on the afternoon before our departure!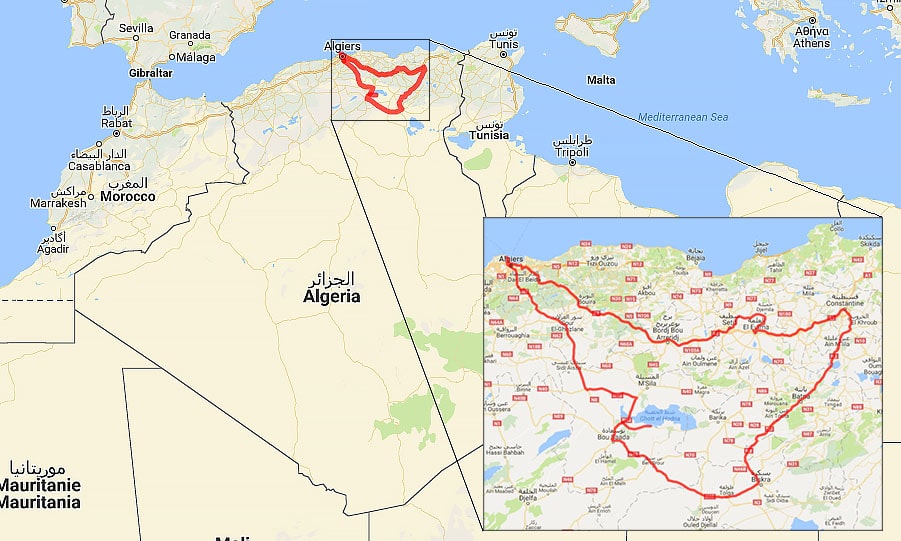 Day 1 – Algeria where the petrol is cheaper than water
A drive to Munich, a plane to Madrid and then just a short second flight to Algiers and we were there – in an "incredibly dangerous country" where everyone wants to kidnap any European. A man from the car rental company was already waiting for us at the airport as appointed. We paid him a deposit and a fee for the car rental, all in cash (in EUR). He didn't know English at all, and we decided that everybody would be same. We were surprised during this exchange by the fact that the guy didn't care how much petrol we would leave in the car upon return. We understood the reason at the first gas station.
The price of gasoline in Algeria is unbelievable, literally cheaper than water! We refuelled for about USD 0.15 per litre on average. In the end, we drove 1270 km, so petrol for one person cost just USD 3.20.
We headed toward Setif from the airport. It is a smaller city that isn't very interesting, but there was one hotel there that we were able to book online. We chose a route on the main highway connecting Algiers (the capital) with the eastern part of the country. The highway was in perfect condition the whole time. Only twice did police or military checkpoints slow us down. They waved us on once, and the other time wanted to see our passports and visas.
We arrived at Setif in the evening, the city full of street hustle and crazy traffic just like in other developing countries. We pretty quickly found our hotel in the centre of town for the first night – Hotel Frantz Fanon. A clean, spacious double room with breakfast cost around USD 60. Unfortunately, the hotel was next to the mosque, so a wake-up call was secured. We went to the city for dinner. We found an interesting looking restaurant but – oops – the menu was only in Arabic and French. So we used good old sign language. The food was good and cheap in the end.
Day 2 – All alone at a Roman excavation site
The breakfast was served on a rooftop terrace in the morning, which offered a gorgeous view of the surrounding area, so we tried to take as many photos as we could. After a while, we discovered that a small military base was located next to our hotel. Secret police came knocking at our door after maybe half an hour, demanding an explanation. Fortunately, they believed us when we told them that we didn't have the slightest idea the base was there. Still, we had to delete all the photos right there in front of them. We got into the car immediately after and headed towards our main destination. This was a town called Djemila, where probably the best ruins of Roman buildings can be found in the whole of North Africa.

This roman city was once known as Cuicul and was founded in the first century AD. It's possible to see an enormous part of the former city, including the amphitheatre, triumphal arch, several temples and a museum, with beautifully preserved frescoes.
The city reached its peak during the fourth and fifth centuries, when a Christian basilica was even built here. We spent the next couple of hours wandering the streets in disbelief and imagining how beautiful everything must have looked then. The best thing was the absolute freedom we had while exploring the ruins. The only people in the whole complex were the soldiers who, of course, didn't forget to check our documents several times.
Constantine – the city above the chasm
We had a wonderful lunch in Djemila and what awaited us was the journey to Constantine. This is the third largest Algerian city with a very long history. It was founded by the Phoenicians and has been repeatedly destroyed by wars and then rebuilt throughout its existence. Constantine is especially unique due to its strategic location. It stands on a high rock, which is surrounded by a deep canyon on three sides.
Nowadays, five bridges connect both banks of the canyon and high-rise buildings balance on the edges of its steep slopes. We immediately renamed the city as the 'The City of Views'. The narrow hanging bridges offered us a breathtaking sight into the 100-metre-deep chasm. For accommodation in Constantine I recommend Ibis Constantine, which is a short walk from the old center.
Day 3 – Biskra – gateway to the Sahara
The next day we planned to arrive into the town of Biskra, which is often called the gateway to the Sahara. It was founded by the Romans, but no monuments have survived to today. Along the way, we planned to visit the national park of Belezma, but unfortunately, our friend Vitek accidentally stepped into a big hole in the street and twisted his ankle.
We noted the decline in vegetation during the trip south, contrary to the increase in the number of police and military checkpoints. The desert was rockier, so we stopped at some stunning scenery and took some nice shots. Unfortunately, we were just about 200 metres away from a military checkpoint. Soldiers couldn't understand what we were doing in their country and what was so interesting about this desolate plain that we would take pictures of it. We tried to explain that we were tourists and that we don't have this kind of landscape at home. It was indeed hard to communicate without any knowledge of French. Eventually, their commander decided to release us, because he simply didn't know what to do with us.
We arrived at Biskra late that night, and the only thing we could think of was a shower and bed. We stayed at the hotel Diab, where we had a double room with breakfast for USD 22.
Day 4 – Algiers – a city with European style
We left for the longest part of the journey on the last day, which meant 500 km to the capital Algiers along the edge of the Sahara. The scenery was incredibly photogenic, full of orange rock-lined valleys of dried-up rivers, date groves and, surprisingly, greenhouses containing tomatoes and potatoes. The road was in better shape than we could have dreamed.

The truth is that Algerian roads are full of bumps. The guy who drove us on our trip had to stay vigilant, as most of the bumps aren't marked at all. Fortunately, the car held in one piece, so we survived those few unscheduled 'flights'.
We arrived at the capital city after sunset. Nevertheless, we felt like we had found ourselves somewhere in France, more like somewhere in Marseille than Africa. The wide streets were lined with palm trees and residential buildings with shutters on the windows stood in the centre.
This is a helpful article about Top 10 things to do in Algiers.
After checking in at the hotel Samir, we went to explore the town. Although it was a Friday evening, the centre was quite deserted. We searched for some open restaurants and shops, but found only a few stalls selling kebabs or pizza. We then reached the Place de la Grande Poste, where we could admire the view of the illuminated marina and beautiful historic post office building.
Day 5 – Christian monuments in the Muslim world
We had only a few last hours until departure, so we decided to use the remaining time for a short tour around the city. We were impressed by the beautiful Basilique Notre Dame d'Afrique, which was built in the 19th century. It stands on a promontory with breathtaking views. It was a bit strange to admire such a wonderful Christian sanctuary in Alegria –  a Muslim country.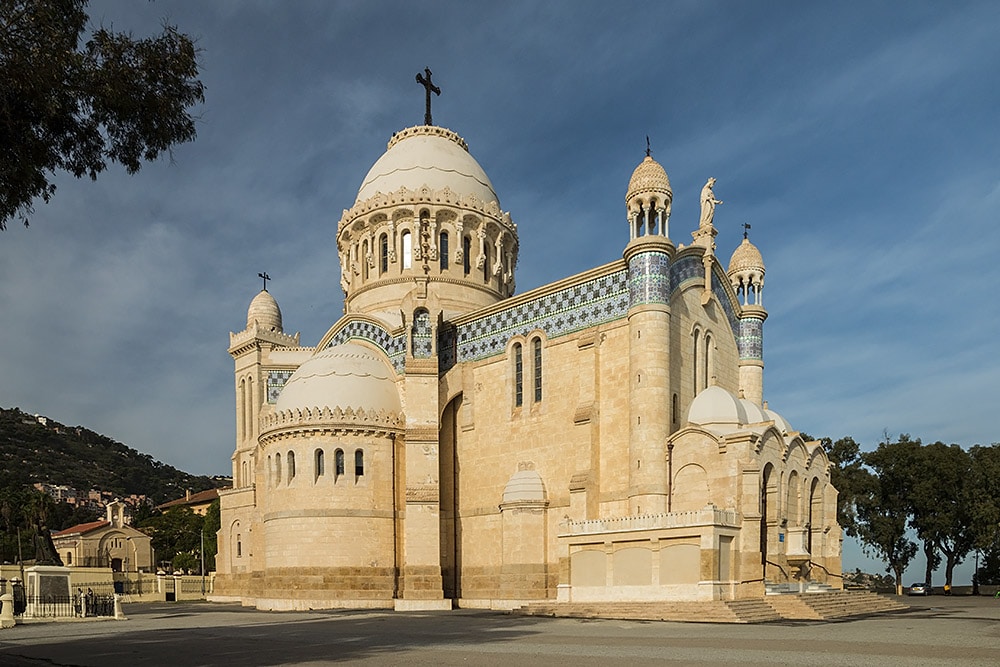 We stopped at the Maqam Echahid Memorial on our way to the airport, commemorating the Algerian War of Independence. This tribute to fallen soldiers is built on the east side of the town, on a hill offering a beautiful view of almost the entirety of Algiers.

This visit to Algeria was a big surprise for all of us. Definitely, I have to say that I didn't feel threatened even once. We didn't meet a single tourist during our stay. Maybe that's why we frequently encountered misunderstandings with the locals – what's so interesting in their country, they wonder, that white Europeans would visit? Although the vast majority of Algerians speak no English, everyone we met tried to help when we were in need.
Is it safe to travel to Algeria? Check out this article about safety in Algeria.
Liked this post? PIN IT FOR LATER!!